This London Restaurant Just Launched a 'Mean Girls' Menu and Everything Is Pink
Get in loser. We're going to London.
U.K.-based restaurant Twisted London is celebrating Mean Girls' 15th anniversary in the absolute best way possible—with an all-pink menu.  
Unfortunately, this UberEats exclusive will only be available for one day. Booo. As disappointed as we are that this isn't a permanent addition, we're super impressed with how on-theme each offering is. Seriously—this promotion is, dare we say, so fetch. Here's what's on the menu:
Brutus vs Caesar salad — £8 ($10.35)
In the immortal words of a very fed-up Gretchen Weiners: "Brutus is just as cute as Caesar. Brutus is just as smart as Caesar. People totally like Brutus just as much as they like Caesar. And when did it become okay for one person to be the boss of everybody, huh? Because that's not what Rome is about. We should totally just stab Caesar!"
Vegan pink dog — £8 ($10.35)
Twisted London took to Instagram to assure us that this hot dog has not been made out with.
Fetch cheesy fries — £6 ($7.76)
When in doubt, get the cheese fries.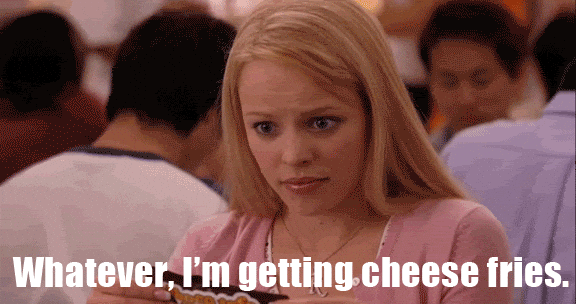 Glitter burger — £9 ($11.64)
I have to be honest here: I've seen Mean Girls roughly 300 times and I can think of no mention of glitter. But still, that's a good lookin' burger.
Pink slaw — £3 ($3.88)
Again, not exactly on-theme. But we can't all be winners.
Mac and cheese — £3 ($3.88)
This is perfect if, like Regina, you're on an all-carb diet.
Protein bar — £3 ($3.88)
This copycat take on "Kälteen bars" are genius and, if you don't get this reference, we can't be friends.
Rainbow cake — £6 ($7.76)
This cake, "baked with rainbows and smiles," is the perfect dessert for anyone who has ever felt personally victimized by Regina George.