60 of the Best Gingerbread House Ideas That the Internet Has to Offer
It's beginning to look a lot like Christmas.   
@ilovechristmasblog/Instagram, MyRecipes
Looking for a little holiday inspiration? Your search ends here. We've rounded up the very best gingerbread house ideas—from cozy, snowy cottages to magical winter wonderlands—the internet has to offer. 
Related: 200+ Christmas Recipes
Whether you want to build a quaint log cabin (a bag of pretzels and a box of graham crackers should do the trick) or a Christmas village (complete with candy canes and silver lanes aglow), you're sure to find something to spark your creativity in this merry and bright lineup: 
1. Pretzel Log Cabin
This cute little cabin is a MyRecipes creation! Get our full tutorial here. 
2. Nutty Gingerbread House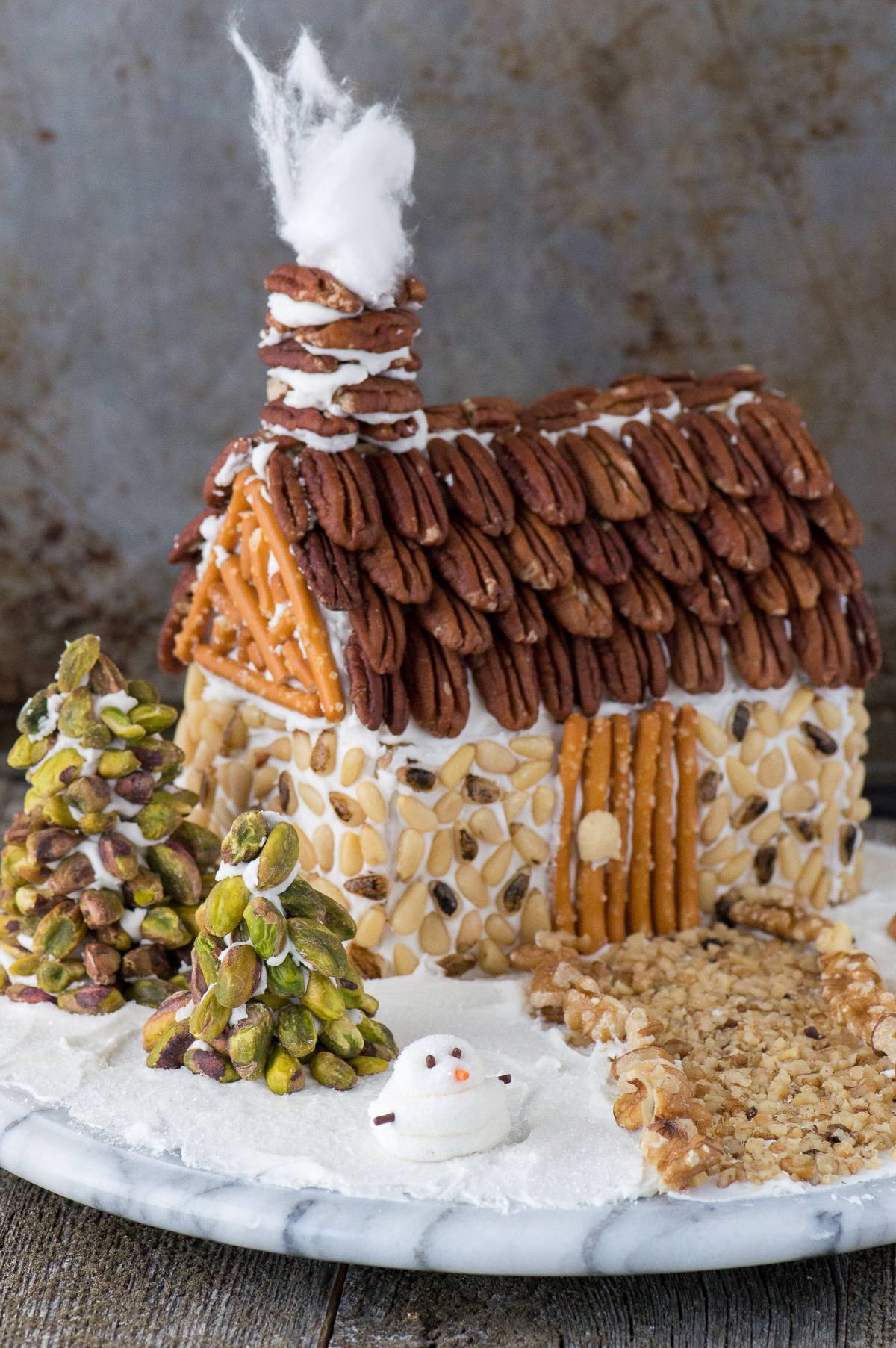 Spotted on: The First Year Blog
3. Graham Cracker Barn
Spotted on: Hungry Happenings
4. Pretzel Log Cabin
Spotted on: She Knows
5. Minty Gingerbread House
Spotted on: Wilton
6. Funfetti Sugar Cookie House
Spotted on: Studio DIY
7. Gingerbread Log Cabin in Winter
Spotted on: Gingerbread Journal
8. Pastel Gingerbread House
Spotted on: Lovely Indeed
9. Edible Fairy House
Spotted on: Sugar, Spice, and Glitter
10. Lisa Frank Gingerbread House
Spotted on: Aww Sam
11. Gingerbread Presents
Spotted on: Aww Sam
12. Vintage Storefront Gingerbread House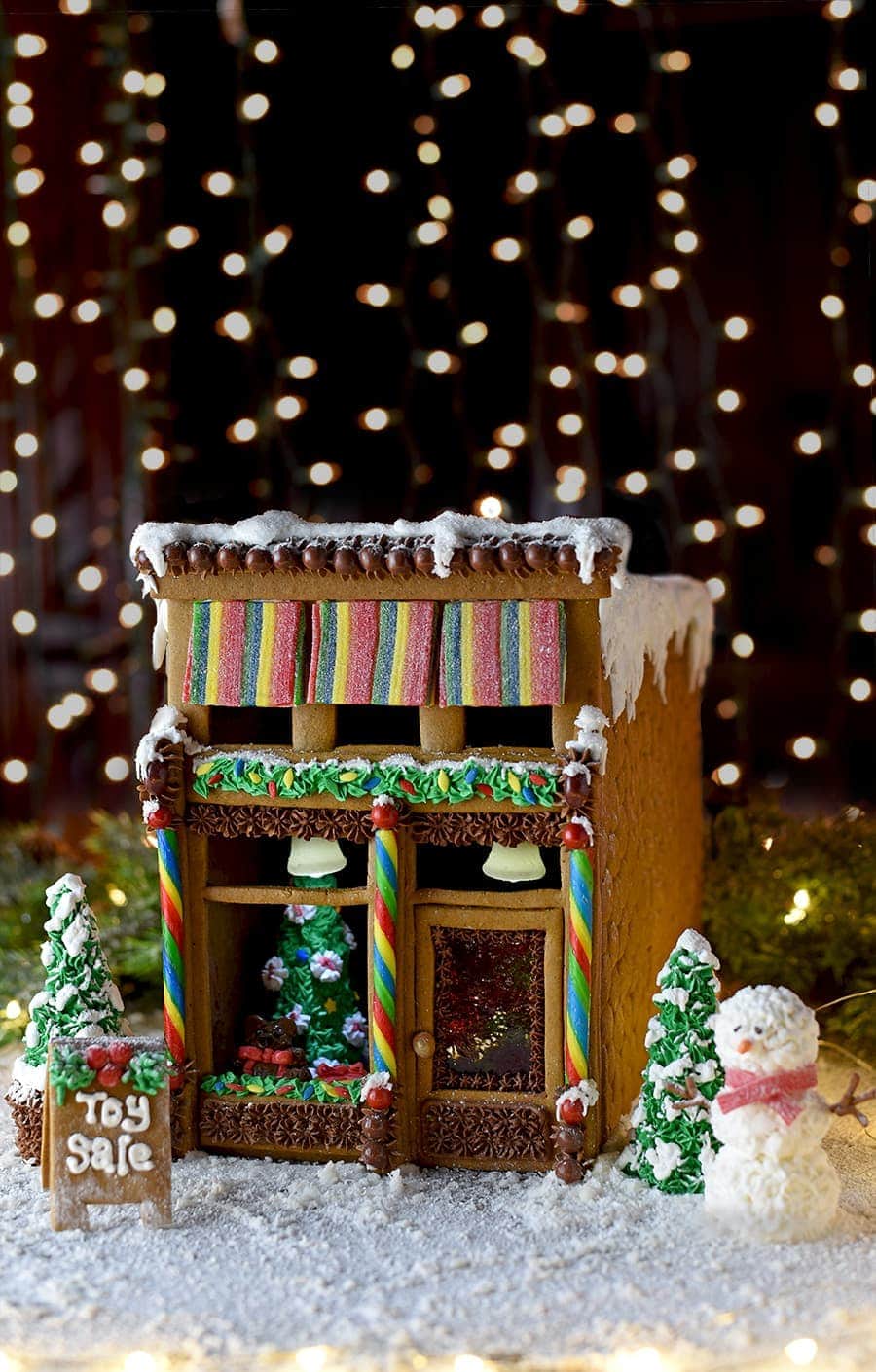 Spotted on: Vintage Kitty
13. Stone Gingerbread House
Spotted on: Worth Pinning
14. Gingerbread Hogwarts
Spotted on: Not Quite Nigella
15. Sprinkles of Fun Gingerbread House
Spotted on: Wilton
16. Gingerbread House Placecards
Spotted on: Brit + Co
17. Rustic Log Cabin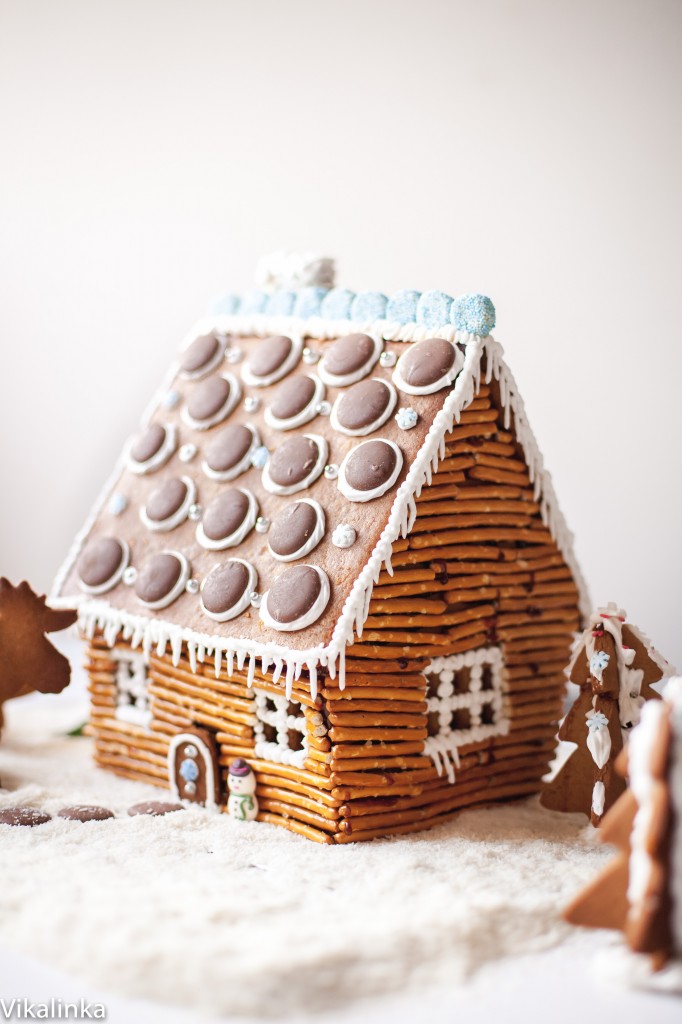 Spotted on: Vivalinka
18. Mini Mug Gingerbread Houses
Spotted on: Juliette Laura
19. Vermont Holiday Home
Spotted on: King Arthur Flour
20. Gingerbread Lodge
Spotted on: Taste of Home
21. Snowy Gingerbread Log Cabin
Spotted on: Three Pixie Lane
22. Shimmer-Sparkle Gingerbread House
Spotted on: Wilton
23. Written on the Walls Gingerbread House
Spotted on: Wilton
24. Harvest Gingerbread House
Spotted on: The Gingerbread Journal
25. Healthy Gingerbread House
Spotted on: The Chalkboard
26. Gingerbread Carousel
Spotted on: Cookie Connection
27. Plaid Gingerbread House
Spotted on: Wilton
28. Bob's Burgers Gingerbread House
Spotted on: Pretty Cake Machine
29. Minimalist Gingerbread House
Spotted on: @GingerbreadMaid/Instagram
30. Gingerbread Labyrinth
Spotted on: @GingerbreadMaid/Instagram
31. Gingerbread Hotel
Spotted on: @GingerbreadMaid/Instagram
32. Gingerbread Camper
Spotted on: @GingerbreadMaid/Instagram
33. Gingerbread Monster House
Spotted on: @LukaBakerySweets/Instagram
34. Sparkly Gingerbread House
Spotted on: @sonja_ols/Instagram
35. Powdered Sugar Snow Gingerbread House
Spotted on: @thehatandthemousefrinton/Instagram
36. Gingerbread House Cake
Spotted on: SynaStyx/Reddit
37. Graham Cracker Gazebo
Spotted on: Naprisun/Reddit
38. Realistic Gingerbread House
Spotted on: Jenjennjennypants/Reddit
39. Graham Cracker Camper
Spotted on: Ethandsmith/Reddit
40. Scandanavian Gingerbread House
Spotted on: CulturallyConf1/Reddit
41. UP Gingerbread House
Spotted on: Rkpenguin/Reddit
42. Gingerbread Jeep
Spotted on: @chlorosiswolff/Instagram
43. Black Licorice Gingerbread House
Spotted on: @anzie86/Instagram
44. Gingerbread Church
Spotted on: @tfsnc/Instagram
45. Snow Globe Gingerbread House
Spotted on: @dekokitchen/Instagram
46. Delicate Gingerbread House
Spotted on: @_ladygingerbread/Instagram
47. Winchester Mystery Gingerbread House
Spotted on: @christinemcconnell/Instagram
48. Gingerbread Firehouse
Spotted on: @kerriwadd/Instagram
49. Askew Gingerbread House
Spotted on: @idontwannabehere/Instagram
50. Red and White Gingerbread House
Spotted on: @bellabiscoitos/Instagram
51. Colorful Candy Cane Gingerbread House
Spotted on: @marysartsandcrafts/Instagram
52. Cozy Cottage Gingerbread House
Spotted on: @dough_and_batter/Instagram
53. Gingerbread Imperial Falcon
Spotten on: @norton_kenobi/Instagram
54. Spooky Gingerbread House
Spotted on: @kelitart/Instagram
55. Cookie Monster House
Spotted on: @rachelsnacksgirl/Instagram
56. Gingerbread Stove
Spotted on: @thebaking.diary/Instagram
57. Striped Gingerbread House
Spotted on: @pernickovani_s_misou/Instagram
58. Pretzel Log Gingerbread House With Chex Roof
Spotted on: @thebohobaker/Instagram
59. Detailed Snow Gingerbread House
Spotted on: @elenababikova/Instagram
60. Gingerbread Castle
Spotted on: @ilovechristmasblog/Instagram