65 Desserts That Will Make You Scream "CHOOOOCCCCOLATE!"
Did you say … chocolate?  
Do you love chocolate? Sure you do. But do you love it as much as this guy?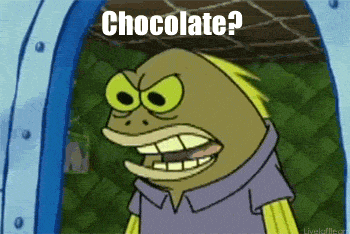 If you're over 30 (or if you're under 30, but spent your youth doing anything besides watching Nickelodeon), you might be a little lost. Let me explain:
Many miles under the sea, there exists a town called Bikini Bottom. In that town lives a pair of best friends: Spongebob Squarepants, a sponge, and Patrick Star, a starfish.
One fateful day in 2002, Spongebob and Patrick decided to become entrepreneurs. How did they plan to achieve their lofty business goals? By selling chocolate door-to-door, of course.
Their first customer was this gentleman:
When he heard what they were selling, he began maniacally screaming "CHOCCCOLATE." The friends were so startled, they ran away.
Then they met this lovely mother-daughter duo: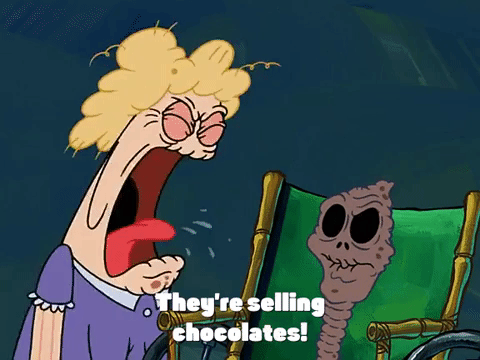 The older lady, who wasn't a chocolate fan, purchased a bar after the newfound salesmen convinced her it would would extend her lifespan.
But their luck was short-lived: The crazy chocolate man had caught up to them.
In a happy twist of fate, though, it turned out that the man was not dangerous—he was just crazy for chocolate.
He purchased their entire inventory. In the end, Spongebob and Patrick used the funds to take the mother-daughter pair to a nice restaurant.
Why did I just spend all that time recounting, in painstaking detail, the plot of a 17-year-old cartoon episode?
Because I make poor decisions. Also, because it was the only way to get my point across.
Listen: You are going to love these chocolate dessert recipes. You're going to love them like that fish guy would love them.
70 Mouthwatering Chocolate Dessert Recipes
Dark Chocolate Cakes
Photo: Caitlin Bensel; Styling: Rishon Hanners
Fudge Cakes with Jasmine Tea Whipped Cream
Photo: Erin Kunkel; Styling: Christine Wolheim
Chocolate Chip Cream Puffs
Photo: Iain Bagwell; Styling: Mindi Shapiro and Amanda Widis
Salted Chocolate Tart
Photo: Leigh Beisch; Styling: Dan Becker
Chocolate Chunk Bread Puddings
Photo: Rachel Johnson
Vegan Dark Chocolate Coconut Tart 
Photo: Kelsey Hansen; Styling: Rishon Hanners
Triple-Chocolate Cake
Photo: Oxmoor House
Dark Chocolate Chunk Cookies
Photo: Jennifer Davick; Styling: Caroline M. Cunningham
Chocolate Thumbprints with Caramel and Sea Salt
Photo: Erin Kunkel; Styling: Kelly Allen
Black Forest Pound Cake
Photo: Iain Bagwell; Styling: Heather Chadduck
Chocolate Molten Lava Cakes
Photo: Randy Mayor; Styling: Claire Spollen
Triple-Chocolate Buttermilk Pound Cake
Photo: Alison Miksch; Styling: Buffy Hargett Miller
Triple-threat Chocolate Cookies
Photo: Peden & Munk; Styling: Amy Wilson    
Five-Ingredient Chocolate Cakes
Photo: Ryan Liebe; Styling: Mary Clayton Carl 
Fudge Brownie Pops
Photo: Ryan Liebe; Styling: Mary Clayton Carl 
Double Chocolate Soufflés with Warm Fudge Sauce
Becky Luigart-Stayner; Leigh Ann Ross
Ultimate Chocolate Chip Cookies
Buttermilk-Mexican Chocolate Pound Cake
Photo: Jennifer Davick; Styling: Cari South
Chocolate Fudge Cheesecake
Chocolate Ganache Sandwiches
Photo: Melanie Acevedo
Bittersweet Chocolate Soufflés
Becky Luigart-Stayner; Lydia DeGaris-Pursell
Rich Chocolate Soufflé Cakes with Crème Anglaise
Photo: Randy Mayor; Styling: Melanie J. Clarke
Chocolate-Caramel Trifle with Raspberries
James Carrier
Chocolate-Glazed Brownies
Salted Chocolate-Pecan Toffee
Annabelle Breakey
Chocolate Baklava
Oxmoor House
Triple-Chocolate Cheesecake
Photo: Oxmoor House
Warm Chocolate Soufflé Cakes with Raspberry Sauce
Photo: Oxmoor House
Chunky Chocolate Brownies
Raspberry-Almond Torte with Chocolate Ganache
Photography: Becky Luigart-Stayner; Styling: Lydia DeGaris-Pursell
Individual Chocolate Melting Cakes
Photo: William Meppem
One-Bowl Chocolate Mocha Cream Cake
Chocolate-Cinnamon Bread Pudding
Photo: Jan Smith
Mocha-Chocolate Shortbread
Milk Chocolate Crème Brûlée
Photo: Ryan Liebe; Styling: Mary Clayton Carl 
Triple-Chocolate Cheesecake
Photo: Ryan Liebe; Styling: Mary Clayton Carl 
Triple Chocolate Brownie-Mousse Stacks
Photo: Linda Pugliese, Hector Sanchez; Styling: Heather Chadduck Hillegas, Buffy Hargett Miller
Mexican Chocolate Pudding Cake
Hazelnut-and-Chocolate Meringue Cake
Stephanie Foley
Ganache-Stuffed Chocolate-Chip Cookies
Photo: © Con Poulos
Hazelnut Chocolate Mousse Tart
Photo: Yunhee Kim; Styling: Kevin Crafts
Ultimate Dark Chocolate Brownies
Photo: Antonis Achilleos; Prop Styling: Christine Keely; Food Styling: Chelsea Zimmer
Mocha Chocolate Mousse
Photo: Jennifer Davick; Styling: Heather Chadduck Hillegas
Chewy Chocolate-Molasses Cookies 
Antonis Achilleos; Food Styling: Margaret Dickey; Prop Styling: Kay Clarke
Chocolate Walnut Tart
Photo: Jonny Valiant; Styling: Deborah Williams
Dutch Oven Double Chocolate Cake
Photo: Thomas J. Story
Chocolate Tacos
Photo: Marcus Nilsson; Styling: Theo Vamvounakis
Brownie Tiramisù
Photo: William Dickey; Styling: Rose Nguyen
Chocolate-Coconut-Macadamia Pie
Mama's German Chocolate Cake
Photo: Victor Protasio; Food Styling: Margaret Dickey; Prop Styling: Heather Chadduck
Silky Chocolate Mousse with Peanut Butter Crunch
Photo: © Con Poulos
Double Chocolate Bread Pudding with Dulce de Leche
Photo: Ryan Benyi; Styling: Stephana Bottom
Perfect Chocolate Bundt Cake
Time Inc. Video Studio
Guinness Brownies with Irish Whiskey Frosting
Photo: Gina DeSimone; Prop Styling: Kashara Johnson; Food Styling: Karen Rankin
Instant Pot Peppermint Brownie Cake
Photo: Caitlin Bensel; Prop Stylist: Sarah Elizabeth Cleveland; Food Stylist: Karen Rankin
Ice Cube Tray Chocolate Treats
Time Inc. Studio Video
Chocolate Clementine Cake with Hot Chocolate Sauce
Charles E. Walton IV
Chocolate Crinkle Cookies
Photo: Caitlin Bensel; Food Styling: Emily Nabors Hall and Kady Wohlfarth; Prop Styling: Kay Clarke
Chocolate Biscuit Cake
Photo: Aaron Kirk; Prop Styling: Kashara Johnson; Food Styling: Pam Lolley
Vegan Chocolate-Hazelnut Tart with Fresh Berries 
Photo: Kelsey Hansen; Styling: Rishon Marie
Derby Cake
Photo: Daniel Agee; Styling: Karen Rankin
Easy Chocolate Salami
Meredith Food Studios 
Chocolate-and-Cream Layer Cake
Jennifer Causey
Slow Cooker Chocolate Lava Cake
Photo: Caroline Arcangeli; Prop Styling: Christina Daley; Food Styling: Sarah Epperson  
Mexican Hot Chocolate Macarons 
Antonis Achilleos; Food Styling: Margaret Dickey; Prop Styling: Kay Clarke
Bribery Cake
Nicole Franzen/Ten Speed Press